Conical mixer KKM - KNIELE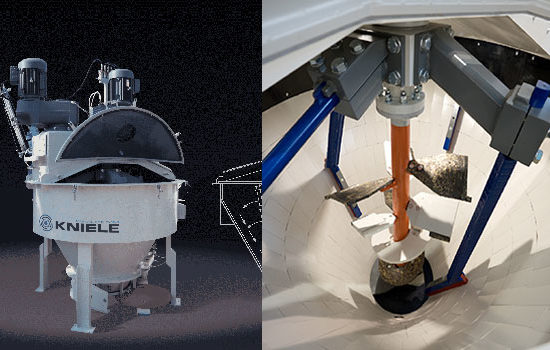 A revolutionary mixing principle
The conical mixer, which Kniele patented in 2000, is based on a revolutionary mixing principle. Two counter-rotating agitators quickly generate a homogeneous mass in a conically shaped mixing space.
The first agitator consists of a conical worm, equipped with propellers or blades, arranged in a helical fashion. The second agitator comprises a mixing arm associated with a scraper, which rubs against the wall of the mixing tank.
The central helical agitator conveys the product to be mixed in a vertical position and applies rotation to it. The agitator arm, offset from the central axis, operates in the opposite direction to this rotational movement. The two opposing, transverse mixing currents thus produced powerfully swirl the entire contents of the mixer, causing the components to be mixed quickly and efficiently.
For maximum demands
Considering its outstanding characteristics, the KKM conical mixer is particularly used in all types of industries as well as research institutes for the development of new special concretes, material testing laboratories and laboratories of educational institutions. .
For the manufacture of ultra high performance concretes (UHPC), the mixer can be equipped with a special agitator and a special drive, capable of reaching speeds of 400 rpm. It is thus possible to reduce the mixing time to approximately 2/3 minutes.
Apps
foam concrete
Mineral concrete
fiber concrete
polystyrene concrete
Self-compacting concrete
Ultra-High Performance Concrete
Dry mix products
Foodstuffs
Chemical products
Characteristics
Conical bowl mixer
Tapered Archimedean screw and blades
Capacity from 15 to 6,000 liters
Two counter-rotating agitators
Efficient dispersion of cement agglomerations
Specific stirrers for perfect mixing
Constant mixing quality, even with small quantities
Fast loading of products and colors
Short mixing and emptying cycle
Low maintenance time and wear
Scrap reduction
High performance
The speed of each agitator can be adjusted independently of that of the other, in order to produce both wet concrete and liquid concrete. The continuous adjustment allows a perfect adaptation to each mixture and considerably reduces the mixing time of special concretes.
High Performance Factors:
Short mixing and emptying cycle

Short cleaning time

Saving cement and pigments

Scrap reduction

Minimum maintenance work

Reduced wear areas