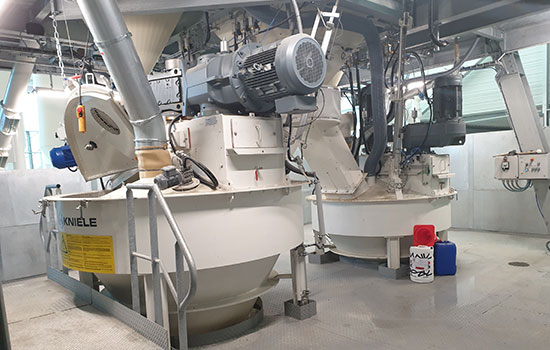 With more than two decades of experience, three generations and the use of state-of-the-art technology, KNIELE provides systems to increase the productivity and quality of your products.
A company at the heart of innovation, KNIELE offers a revolutionary mixing technique with a conical mixer with a patented system, various mixers and complete custom-made plants.
The KNIELE company was founded in 1991 by Mr. Erwin Kniele. Over the years, he has been able to pass on his know-how to the following generations. This is how his family business was able to develop and become a medium-sized company, while retaining its family spirit by taking on an international scope.
The KNIELE production site in Germany is continuously being expanded in order to create sufficient production capacity and thus meet demand. A close collaboration, between the KNIELE company and concrete manufacturers, makes it possible to continually modernize the mixing technology to always be at the cutting edge of technology.
Today, the Kniele company offers mixers that meet the most demanding needs in the various mixing industries.
KKM conical mixer

KKM-L laboratory mixer

KKM-RT laboratory mixer

Planetary intensive mixer

SUS suspension mixer

AFE self-leveling screed mixer

Line and pocket silos

Tower and stepped installations

Mobile and semi-mobile mixing plants

Dry mortar plant

UHPC plant

Special facilities

Mixer accessories